The Pinewood Derby is without a doubt one of the most exciting activities for Pack 478 all year!  The event is held in February, and it is not to be missed!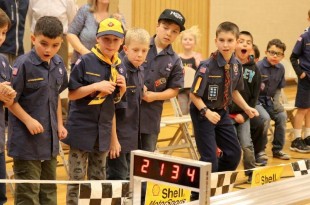 Each scout builds his or her own car, perhaps with a little help from a parent.  Most scouts begin with the official kit, which includes a pine block (with pre-cut slots for the axles), four nail axles, and four plastic wheels.  The Pack holds a workshop about a month in advance where templates are available and leaders are on hand to cut the block to the desired shape with band saws.  Pre-cut kits are also allowed, as long as the bear the Official Boy Scouts of America label.  A key thing to remember is the car is not to exceed 5 ounces.
Trophies are given for the top three fastest cars pack-wide, as well as "best in show."  Den winners are invited to compete in the District Pinewood Derby later in the Spring. 
Be sure to check the Calendar for more details.
We follow the Potomac District Official Rules, which include required dimensions and weight for your car, etc...  Please pay close attention to the rules and restrictions as you design your car!
You can find the rules here: ​ 2020 Potomac District Pinewood Derby Rules (pdf)